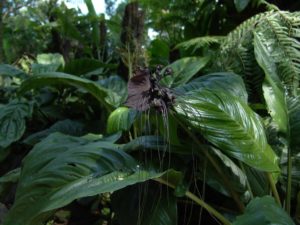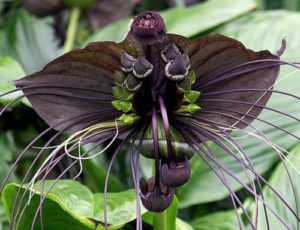 Typically, the plants we feature here are native to Mediterranean-climate regions, perfect for incorporating into a Central Coast landscape. This month, we're getting in the spirit of the season and bringing you something a little more... freaky. This terrifying tropical might not be ideal for growing outdoors, but provide it with the appropriate environment, and our October Plant of the Month will make your (green)house feel delightfully haunted!
Tacca chantrieri, commonly known as the Black Bat Plant, Cat's Whiskers or Devil Flower, is a fast-growing rhizomatous and tuberous perennial reaching 2-3 feet tall at maturity. The dark-green, lance-shaped leaves have a corrugated pattern and can grow up to 10 inches wide and 24 inches long. In late summer, racemes displaying up to 30 blooms rise above the lush foliage. The flowers are a deep, chocolaty-red, almost black, and hang in umbels beneath large bracts (modified leaves) of the same color. Smaller bracts up to 8 inches long hang down from the flowers and resemble whiskers.
Black Bat Plants require particular growing conditions, but if you get it right, you will be rewarded with rapid foliage growth and impressive flower production over a long life span. This member of the Taccacea family is native to parts of Malaysia, India and East Asia, where it grows in the understory of rainforests, so mimicking that environment will give you the best chance at success with this tender tropical. Tacca chantrieri will thrive when grown in a warm, humid space (like a greenhouse) with filtered to full shade and adequate air circulation. Use a light, slightly acidic soil mixture with a lot of organic matter (peat moss does the trick or treat) and porous material for good drainage. Be sure to keep the soil moist but not soaking wet.
If you're looking for a new way to spook your friends this year, bring one of these creepy, creature-like plants home for the upcoming holiday!