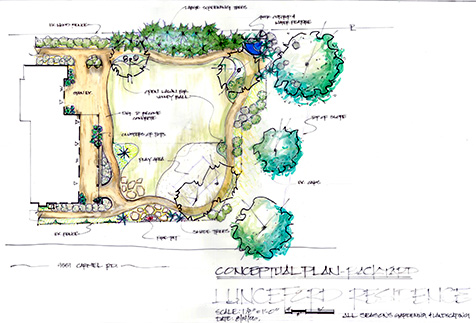 Design is the backbone of any successful landscape project. Our team of award winning designers can create your outdoor oasis in a variety of styles. Each of our designs is carefully created to fit your property and take into consideration all of your desires and needs.
"A recent study shows that a good landscaping adds 5% to 11% to a homes value. The best way to do it is to hire a landscaper that has in-house designers or landscape architects." - Money Magazine, March 2009
Our Design Process:
First our designer will come to your property for a free consultation. Second, our designer will assess your property by listening to your desires and needs. Lastly, our designer will present you artistic ideas on how to enhance your property.
Standard Design Plan Set:
Our standard plan set includes a black and white drawn "to scale" master plan and planting plan. The master plan shows the location and type of material to be used in the construction of your project. It shows location of elements like water features, fireplaces, kitchens, arbors, and any other custom features in your design. Having the landscape plan be "to scale" allows construction crews to know the exact locations of elements so when your landscape is built it will look like the plan. Additionally, the plan will show the location of existing and future utilities so construction crews know where to avoid and install utilities. The planting plan lists the botanical and common names of the plants as well as location and mature size.
Design Plan Options:
Color Rendered: The color rendered plan is a color version of the master plan and planting plan. The color plan helps the client visualize the plants foliage and or flower color and hardscape elements color and texture. The color rendering has shadows on plants and elements adding depth to the 2D drawing allowing for better visualization.
3D Renders: A 3D drawn picture to help visualize elements of the landscape plan. Elements that clients find helpful to have drawn in 3D are: fireplaces, kitchens, arbors, water features, seating walls, retaining walls, fences, gates, and custom art pieces. 3D renderings help the client fully understand what will be constructed, eliminating surprises!
We look forward to meeting with you and designing the landscape of your dreams!