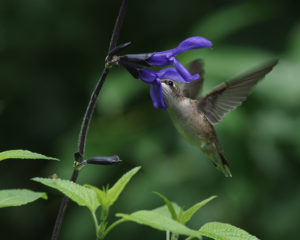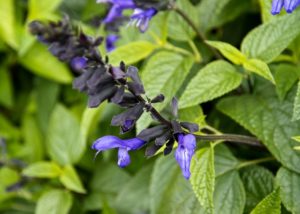 Bring vibrant, show-stopping color into your summer garden with our July Plant of the Month!
Salvia guaranitica 'Black and Blue' is an upright perennial with an open, bushy habit, reaching 3-5 feet tall at maturity. In areas with harsh winters or extended summer heat, this semi-tender plant is grown as an annual, and typically stays within the 2-3 foot range. From early summer into fall, numerous spikes full of electric blue, two-lipped, tubular flowers on black sepals rise out of bright green (almost chartreuse) arrow-shaped foliage on dark green, square stems.
Unlike many of the sages commonly found in California gardens, Salvia 'Black and Blue' is not native to North America; it is actually found in the South American countries of Brazil, Argentina and Paraguay. It performs best in full sun to part shade with regular water, but it can be fairly heat and drought tolerant. It is a low-maintenance plant with no serious disease or insect susceptibilities. Although Salvia guaranitica can be propagated by seed, this specific cultivar is more often started from cuttings.
Use Black and Blue Sage as a striking container plant, or incorporate it into a mixed perennial bed to provide a focal point with stunning color contrast. Dead-heading the flowers will encourage repeat blooming throughout the bloom period. Like most sages, the foliage is aromatic (which makes it less attractive to deer) and the flowers attract hummingbirds, butterflies and other garden favorites!