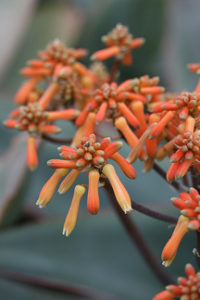 The showy orange-red flowers of this 2' wide succulent rosette make this plant an eye-catcher from winter into spring. Coral aloe provides the perfect punch of color for a gray winter, which is why we're spotlighting this aloe as our pick for January Plant of the Month.
Flowers rise on stalks about 2' tall above broad, flat gray –green leaves. The succulent leaves will take on blue hues when planted in partial shade, and more pink tones in hot sun.
Like all succulents, this aloe requires well-drained soil and looks great in rock gardens. Coral Aloe can handle regular to irregular water with well-drained soils and is hardy to 20 degrees F. We chose this as January's spotlight plant mostly for its colorful winter flowers, but the attractive foliage will impress year-round. Leaves have long coral stripes along the edges and shorter green spots along the fleshy middle.
Aloe striata is found in South Africa's dry lands up to 7,300 feet in elevation. In nature, it is seen in scattered masses among native grasses and shrubbery along foothills. Try this plant in groupings, containers, or as a specimen popping up from low growing groundcovers or bunch grasses.