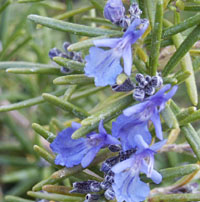 Mozart rosemary is a newer variety of the well-known culinary herb, which has become quite popular for its deep green aromatic foliage and intensely blue flowers. This Mediterranean native is a mounding evergreen shrub reaching 3 feet tall and spreading 6 feet wide. In winter to spring, Mozart rosemary is covered with vibrant, showy flowers that attract bees and other pollinators. Lightly trimming back stems after flowering encourages fresh new growth and helps maintain its attractive compact form.
Rosmarinus officinalis 'Mozart' is a great garden selection that is deer resistant and adaptable to a wide variety of soil conditions. Once established, this rosemary requires infrequent water; it is a drought tolerant ground cover that can survive off of seasonal rainfall alone. Mozart rosemary performs well in full sun to partial shade inland, and can tolerate coastal conditions as long as it is planted in a sunny location. This tough perennial can tolerate moderate frosts and is hardy to 10 degrees.
Mozart rosemary is a perfect fit for rock gardens, kitchen gardens, and mixed perennial plantings. Look for our February Plant of the Month in bud and bloom at your local nursery!