We love this plant, Grevillea thelemanniana, the Spider Net Grevillea, for its blooms that pop up year-round. Since it is a winter bloomer, we especially start to appreciate it in winter when the majority of our garden is devoid of color! Try this Australian native for some color in your own garden this December.
This grevillea takes a prostrate form, keeping to 2' high and quickly spreading to a 5' span. It is an evergreen shrub with fine, green foliage. Clusters of red, ribbon-like flowers with yellow-tipped shoots grace the shrub in winter and spring. Grevillea thelemanniana grows best in sunny conditions with well-draining soils. It is useful as a groundcover or to spruce up a corner of a patio in a container. This shrub is nick-named the hummingbird bush in Australia, and will attract hummers and other birds into the garden.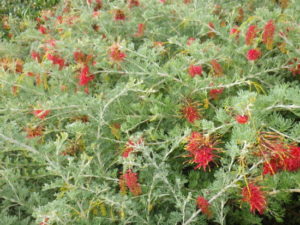 To incorporate this into your garden and create more variety, try these companion plants listed below:
Ceanothus griseus horizontalis 'Diamond Heights' is a California native groundcover with low water needs that can handle sun or shade. With more sun, the more the chartreuse will show, and with more shade or winter temperatures, the deeper greens will be the dominant color. It sticks to 1' tall and up to 6' wide, similar to the grevillea.
Juncus 'Carman's Japanese' performs well in many environments, including sunny, shady, dry and wet conditions.
Phormium 'Black Adder' will add a cool contrast with a pop of deep, near-black burgundy and sharp blades texture. It looks great backlit against a light stucco wall!
Let us know what you think about the red blooming Spider Net Grevillea below! Do you like grevillea and would you use it in your yard to attract more hummingbirds?