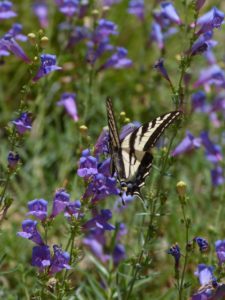 Margarita Foothill Pestemon is being planted in many of our spring landscape installations this year, so it seemed like an appropriate choice for our April Plant of the Month!
This compact evergreen perennial blooms from spring through summer, producing an abundance of vibrant reddish-purple to blue flowers that attract beneficial insects and hummingbirds. The bloom period will be extended through much of the year if the flowers are trimmed back after they finish. The fine, linear foliage is a deep green which makes a nice backdrop for the bright blooms.
Penstemon 'Margarita BOP' was a seedling selected by Bert Wilson of Las Pilitas Nursery about thirty years ago. It first popped up at the Bottom Of the Porch at the nursery located in Santa Margarita, CA (hence the name 'Margarita BOP'). Las Pilitas Nursery says "Every year it would flower and be gorgeous, clear sky blue, fading to purple, at the bottom of our front porch. We've never watered it nor maintained it. Every year we talked about how beautiful, neat, clean it was. The bicycles, skateboards and dogs had run over it tens of times but it still looked good at the Bottom Of the Porch." It is believed to be a hybrid between Penstemon heterophyllus and Penstemon laetus. Penstemon heterophyllus was originally placed in the family Scrophulariaceae, but it is now included in the Plantain family, the Plantaginaceae. It can be found throughout California in chaparral, oak woodland, coastal scrub and grassland plant communities.
Compared to some other California native Penstemons, 'Margarita BOP' is longer-lived and quite dependable in wide range of garden conditions. It performs best in a sunny spot with well-drained soil, and it can tolerate both heat and drought. This plant is hardy to at least ten degrees F, if not lower. Margarita Foothill Penstemon only reaches about two feet tall and equally as wide at maturity, which makes it a perfect choice for a mixed border. Try pairing it with yellow- and orange-flowered perennials for an eye-catching color combination!